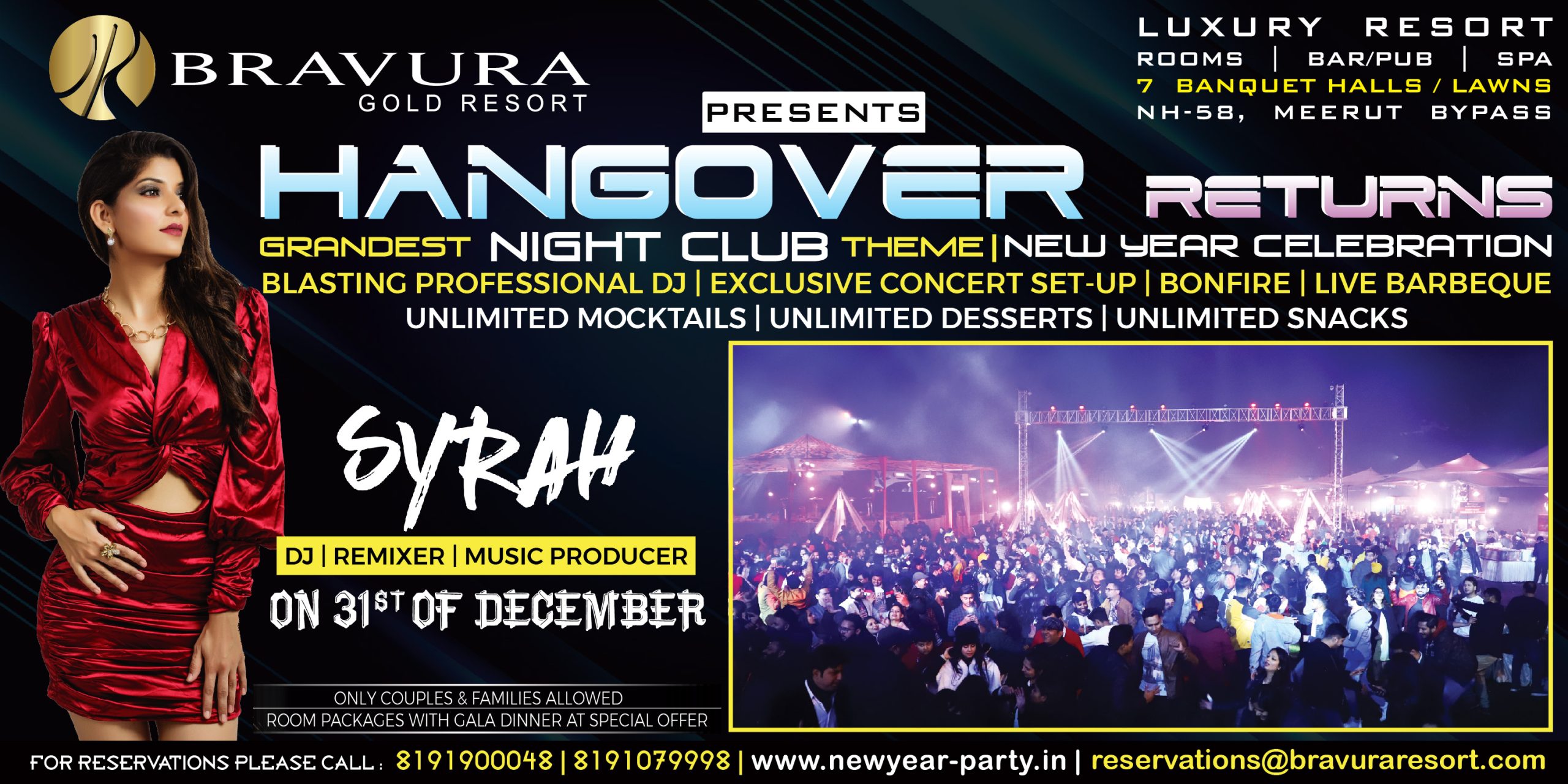 After the grand success of New Year Party (HANGOVER – 2016 , 2017, 2019 and 2020), Bravura Gold Resort once again presents "HANGOVER – 2023" with a promise to make it one of the most memorable evening of your life. Meerut's biggest Ever Night Club Theme Set-up with 100+ Live Cuisines Snacks / Desserts / Mocktails. Bonfire & Fireworks! Only couples and families allowed.
COUPLE PACKAGE INCLUDES

Blasting Pro-DJ with Celebrity DJ
Desserts Spread (Indian / Continental).
Exclusive Concert Set-Up .
Unlimited Mocktails.

Unlimited Snacks & Cocktail Starters.
Live Barbeque.
Bonfire.
Fireworks.

KEY HIGHLIGHTS & ADVANTAGES WITH HANGOVER

Laser Lights & Led Lights.
Flashing Strobes that will create the largest Night Club Theme ever seen in Meerut.
We are better experienced than any one in New Year Events in Meerut.
Better & Largest Set-Up than anyone in Meerut / NCR.
High Security, Better Scanning & Frisking of Guests.
We deliver as we commit, as every year.
Better safety, since customers will buy Liquor they can actually consume so lesser chances of Nuisance as compared to the Unlimited Drink options.

Guest who don't consume Liquor need not to pay extras, as Liquor is not included in the Package.
No Dancers which attracts unwanted elements to the event and makes the event Prone to the embrassing situations, as can be evidenced with all the events in Meerut.
0% Stags allowed with full control on the same.
Prices inclusive of Taxes.
DJ with International Exposure and playing for several events counting upto the Gathering of 5,000 PAX.
Event Date: 31st-Dec-2022
Event Time: 09:00 PM Onwards
Venue Details: Bravura Gold Resort, Delhi – Roorkee Road, Partapur, Meerut (U.P.) 250103, India.
So, don't wait and get your tickets to be a part of such a great event. To book your ticket /passes, please visit us at http://www.bravuraresort.com/Reservation/ or for New Year Packages detail, visit at http://www.newyear-party.in/ or call us now at +91-8191079998, 8191900048